Even Cowgirls Get The Blues
Vote
(Total
0
Votes )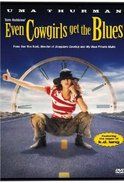 Movies:
Even Cowgirls Get The Blues
Director:
Gus Van Sant
Cast:
Uma Thurman, Lorraine Bracco, Pat Morita
Production Co:
New Line Cinema, Fourth Vision
Genres:
Comedy, Drama, Romance, Western
Runtime:
95 min
Country:
USA
Release Date:
1993
Sissy Hankshaw is born with enormous thumbs that help her hitchhiking through the US from a young age. She becomes a model in advertising and her NY agent 'the Countess' sends her to his ranch in CA to shoot a commercial, set against the background of mating whooping cranes. There, she befriends Bonanza Jellybean, one of the cowgirls at the beauty- ranch. The cowgirls take command of the ranch from the Countess and 'drug' the cranes with 'peyote'. The police besiege the ranch...