Vote
(Total
0
Votes )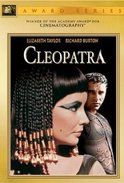 Movies:
Cleopatra (1963)
Director:
Joseph L. Mankiewicz, Rouben Mamoulian (uncredited)
Cast:
Elizabeth Taylor, Richard Burton, Rex Harrison
Production Co:
Twentieth Century Fox Film Corporation, MCL Films S.A., Walwa Films S.A.
Genres:
Biography, Drama, History, Romance
Runtime:
192 min
Country:
USA, UK, Switzerland
Release Date:
1963
In 48 B.C., Caesar pursues Pompey from Pharsalia to Egypt. Ptolemy, now supreme ruler after deposing his older sister, Cleopatra, attempts to gain favor with Caesar by presenting the conquerer with the head of Pompey, borne by his governors, Pothinos and Achillas. To win Caesar's support from her brother, Cleopatra hides herself in a rug, which Apollodorus, her servant, presents to Caesar. The Roman is immediately infatuated; banishing Ptolemy, he declares Cleopatra Egypt's sole ruler and takes her as his mistress. A son, Caesarion, is born of their union. Caesar, however, must return to Italy. Although he is briefly reunited with Cleopatra during a magnificent reception for the queen in Rome, Caesar is assassinated shortly thereafter, and Cleopatra returns to Egypt. When Mark Antony, Caesar's protégé, beholds Cleopatra aboard her elaborate barge at Tarsus some years later, he is smitten and becomes both her lover and military ally. Their liaison notwithstanding, Antony, to ...